so yeah. weaving? takes up a lot of my time. i have 4 scarf from the last two weeks that i need to wash and finish and photograph. and one on the table loom i brought home and another that is just warps right now that will be on the table loom as soon as i finish the one i'm working on.
but i know i've been knitting stuff... i just haven't finished much.
i made a hat for my daddy! but it's not finished yet, i still gotta do the ends and warsh it but it's beautious. and my two scarf style scarfs....well, they're not done. the ruffles isn't long enough and i had to make more yarn and the lacy shawl thing i got mad at and had to throw down for a long time and then rip it all out and start over. but i'm almost done with the border part of it, which is really the hard part of the pattern to follow.
i made a sock. it's a really cool sock. because hey, guess what? lace socks...whole heck of a lot faster than friggin ribbed socks!
speaking of ribbed socks...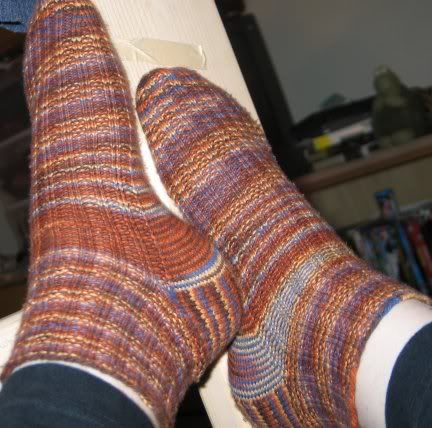 knitpicks sock landscapes in Mesa knit on size 0 dpns with ribbing all the way down the top. they look small when they aren't on my feet, but really they are just the perfect amount of tight.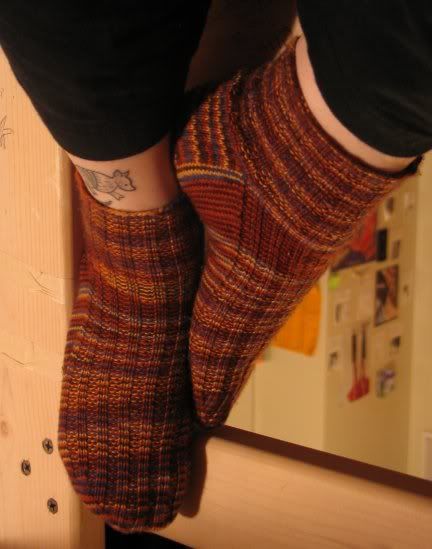 see how comfy they look? see how happy the armadiller is about them? oh yeah.
may i just mention how friggin' happy i was to finish these? i finished one over the summer and the second one didn't get finished until a 2 hour bus ride to bloomington sometime in October. that was a definite 'eat it bitches!' moment. and then i stopped hatarating on the socks and loved them because wow are they ever comfy! i might have worn them for three days straight..maybe. guess you'll never know.

and if you want to hear the story of this: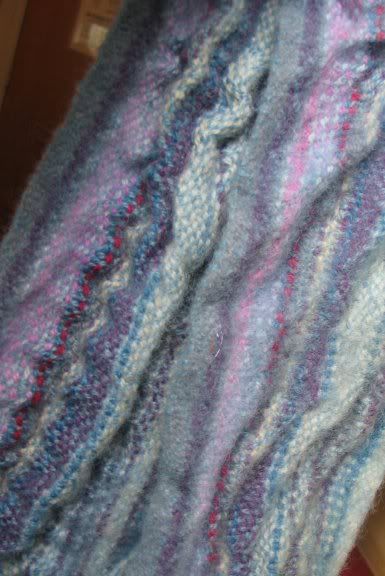 funky-can't-tell-if-its-really-effing-ugly-or-kind-of-cool scarf then you'll have to go Here:
http://www.livejournal.com/users/chimchimery/202243.html

okay, well i have laundry that needs to be dried so that i can go work for my dad and hey i have so much friggin laundry!
ta!